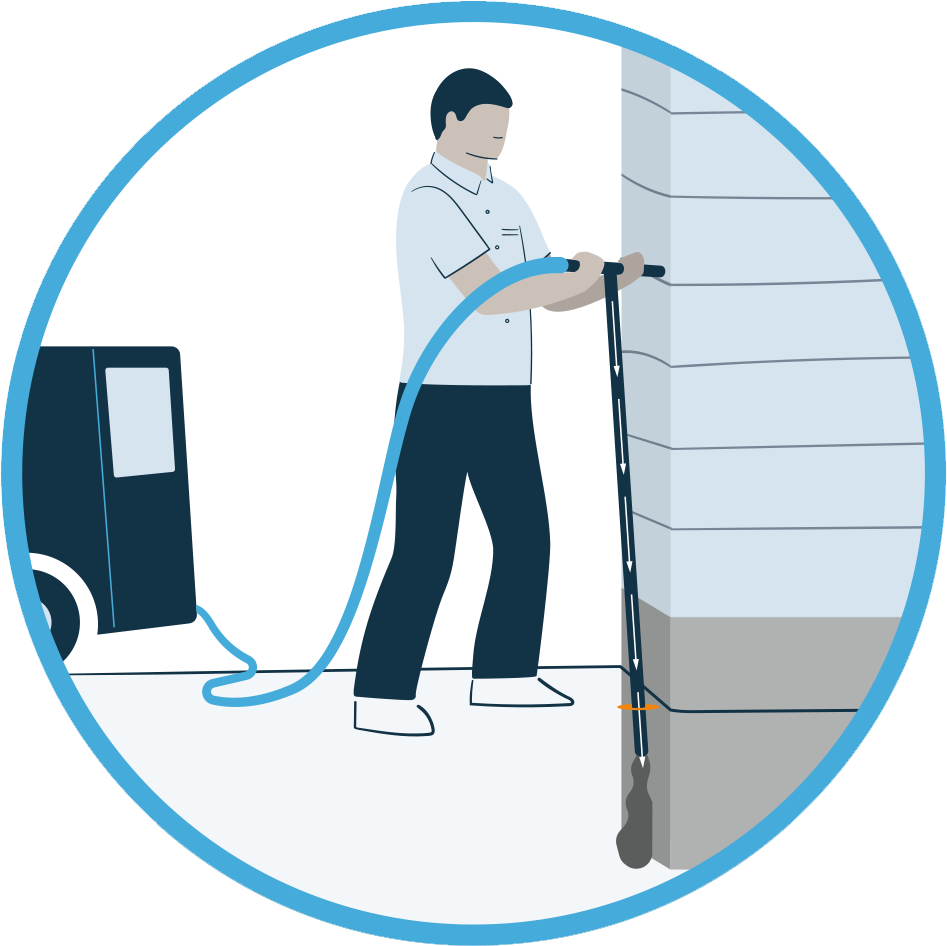 Grand Rapids, MI NO DIGGING Basement Waterproofing
Great Lakes Waterproofing is one of the largest and most dependable basement waterproofing companies in Grand Rapids, MI. Need Help Fast? Call Today!  1-888-448-2351
The "No Digging" Method
Great Lakes Waterproofing in Grand Rapids, MI uses a NO DIGGING Bentonite Clay injection system to seal-off those water pathways and keep your basement walls DRY FOR GOOD!
Stop Water from Hitting Your Basement Wall!
Grand Rapids is known for a lot of things. From craft beer, unique restaurants, a beautiful downtown skyline, and old homes with lots of character. Unfortunately, it is also exposed to the Michigan basement floodings that are all too frequent with the seasonal rains. If you currently have a wet basement or need basement waterproofing in your Grand Rapids, MI home, Great Lakes Waterproofing is here to help.
Our contractors have been waterproofing basements since 1978 and can tackle any of your residential or commercial basement water damage issues using engineer recommended solutions. Our experienced team will assess your situation and apply the appropriate solution for you. We typically recommend utilizing three main types of technologies to eliminate water and moisture in your wet basement: Drain Tile, Hydro-Clay Bentonite, and a Channel System. Visit our Basement Waterproofing page for more information or call us at 1-888-448-2351 for your free inspection and estimate.
Foundation Repair
If you need wall reinforcement or foundation repair services in Grand Rapids, MI, Great Lakes Waterproofing has you covered. Our team of professionals will help you identify your basement wall reinforcement problems and deliver you the perfect solution. Visit our Foundation Repair page for more information on our foundation repair service.
Bentonite Grout
Great Lakes Waterproofing is proud to serve the greater Grand Rapids, MI area, providing homes and businesses with Volclay brand Bentonite Clay for basement waterproofing or elevator pit waterproofing. Volclay Bentonite is a material used to stop wet foundation walls and leaky cracks in the wall. It is great for both residential and commercial use, as it is completely natural and never disintegrates. Visit our Bentonite Grout page for more information about its application. 

Elevator Pit Waterproofing
Do you live in the Grand Rapids, MI area and face issues with water in your commercial/industrial elevator pit? Our team of experts uses proven techniques to help seal your elevator pit from damaging water caused by leaks in the foundation. Contact us today if elevator pit water is present in your building or call 1-888-448-2351 for your free inspection and estimate. Visit our Elevator Pit Waterproofing page to read more information about how we cure elevator pit water issues.
A job well-done is priority #1.
Great Lakes Waterproofing is one of the largest and most dependable basement waterproofing companies serving the greater Michigan area.